Professional vertical shaft impact crusher for artificial sand
We have been in the crusher business for many years. Here are some answers to common questions about VSI crushers that varieties of parties may be interested in.
1. What is a VSI crusher?
VSI crusher is a vertical shaft impact crushing machine. It is a mineral crushing machine that uses velocity and impact to reduce the size of minerals fed to it to a smaller size. Especially, it is professinal to make artificial sand.
2. What's the VSI advantage compared to cone crusher?
One of the major benefits of a VSI when compared to a cone crusher is the shape of the finished particle which is typically more cubical and uniform when compared to a cone crusher product. VSI discharge grading are finer than cone crusher gradings when operating in closed circuit.
3. Is the product grading affected by wear of the rotor parts?
The rock-on-rock VSI's product grading is affected by power demand for the feed load, feed grading and rotor speed. The grading remains constant regardless of wear parts condition. For rock-on-iron VSI, wear of the crushing parts will coarsen the discharge grading.
4. How often will the REMco VSI need to be serviced?
It is recommended that a visual inspection be made on a regular daily basis. Actual service intervals will be determined by the nature of the application, abrasiveness of the rock, and expertise of the operator.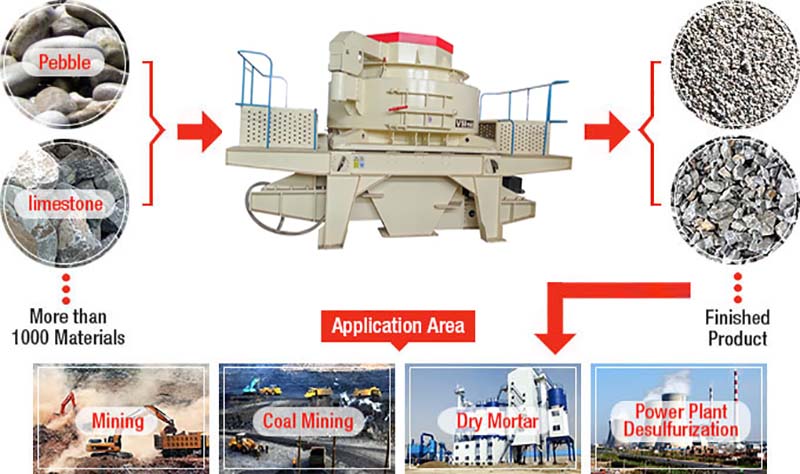 In next essay, more answers about VSI will be exported.
If you want to know our products, you can always call my company's sales hotline +86-371-86555722or click the button below to check the price online ↓
Related recommendations