Application:
Calcium carbonate (marble,calcite,limestone,chalk) ,quartz, zircon, feldspar, barite, kaolin, dolomite, magnesite, alumina, ultrafine cement,clinker, slag,etc.
Dry ball mill is widely used in cement, silicate product, new building material, refractory, fertilizer, black and non-ferrous metals and glass ceramic industry.
Working principle:
Ball mill machine is mainly composed of feeding part, discharging part, rotary part and driving part which includes reducer, small drive gear, electrical machine and electronic control. In powder grinding plant, ball grinding process flow includes crushing, milling,air classifying,packing,silos,bucket elevator,conveying,etc. Grinded material discharges from outlet grit fluently. Ball grinding mill is Formed a closed system with air classifier. Coarse material will be back to ball mill to grind again, and qualified material will go to be packed by worker or packing machine.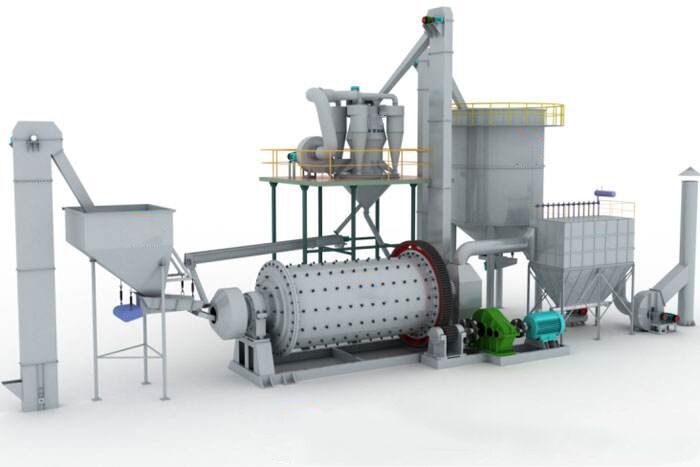 Advantage
(1)Special design, saving energy about 30%
(2)Easy maintenance and operation
(3)Low operating cost
(4)Grinding media chosen for production of the different fineness
(5)Forming a closed system with air classifier ,no dust emission pollution because of negative-pressure powder conveying
(6)The inner lining plate could be made from ceramic, rubber or steel material
specification:
| | | | | | | |
| --- | --- | --- | --- | --- | --- | --- |
| Model | Cylinder Rotating Speed (r/min) | Ball weight (t) | Feeding Size (mm) | Discharging Size (mm) | Capacity (t/h) | Power (kw) |
| Ф900×1800 | 38 | 1.5 | ≤20 | 0.075-0.89 | 0.65-2 | 18.5 |
| Ф900×3000 | 38 | 2.7 | ≤20 | 0.075-0.89 | 1.1-3.5 | 22 |
| Ф1200×2400 | 35 | 4.6 | ≤25 | 0.075-0.6 | 1.6-5.8 | 37 |
| Ф1200×3000 | 36 | 3.5 | ≤25 | 0.074-0.4 | 1.6-5 | 37 |
| Ф1200×4500 | 35 | 5.5 | ≤25 | 0.074-0.4 | 1.6-5.8 | 55 |
| Ф1500×3000 | 29 | 9 | ≤25 | 0.074-0.4 | 2-7 | 75 |
| Ф1500×4500 | 27 | 11 | ≤25 | 0.074-0.4 | 3-6 | 110 |
| Ф1500×5700 | 29 | 17 | ≤25 | 0.074-0.4 | 3.5-6 | 110-130 |
| Ф1830×4500 | 25.4 | 15 | ≤25 | 0.074-0.4 | 4.5-12 | 155 |
| Ф1830×6400 | 24.1 | 21 | ≤25 | 0.074-0.4 | 6.5-15 | 210 |
| Ф1830×7000 | 24.1 | 23 | ≤25 | 0.074-0.4 | 7.5-17 | 245 |
| Ф2100×4500 | 23.7 | 24 | ≤25 | 0.074-0.4 | 8-43 | 245 |
| Ф2100×7000 | 23.7 | 26 | ≤25 | 0.074-0.4 | 8-48 | 280 |
| Ф2200×4500 | 21.5 | 27 | ≤25 | 0.074-0.4 | 9-45 | 280 |
| Ф2200×6500 | 21.7 | 35 | ≤25 | 0.074-0.4 | 14-26 | 380 |
| Ф2200×7000 | 21.7 | 35 | ≤25 | 0.074-0.4 | 15-28 | 380 |
| Ф2400×3000 | 21 | 23 | ≤25 | 0.074-0.4 | 30-50 | 245 |
| Ф2400×4500 | 21 | 30 | ≤25 | 0.074-0.4 | 40-60 | 320 |
| Ф2700×3600 | 20.7 | 40 | ≤25 | 0.074-0.4 | 45-80 | 430 |
| Ф2700×4500 | 20.7 | 48 | ≤25 | 0.074-0.4 | 50-90 | 430 |
| Ф2700×13000 | 20.7 | 60 | ≤25 | 0.074-0.4 | 50-90 | 630 |
| Ф3200×4500 | 18 | 65 | ≤25 | 0.074-0.4 | -- | 800 |
Maybe you are interested in