How to Start an Organic Fertilizer Production Line
We smoothly shipped Rotary Dryer, Shredder machine, Rotary Drum Screening to abroad several days ago. These machines are main equipment of the organtic fertilizer production line. How to start organic fertilizer production line? What is the process of the organic fertilizer production line? What is the application and advantages of it? Now, let the technical staff from Henan Baichy Machinery tell you the professional answers for each questions mentioned here.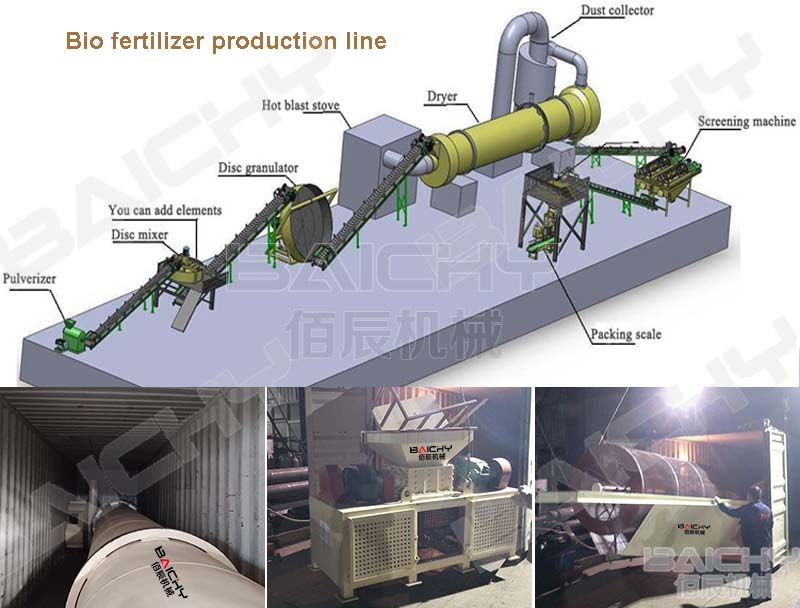 Introduction of the Organic Fertilizer Plant
The organic fertilizer production line is mainly used to produce different organic materials which can get from animal waste, industrial waste, household waste and municipal sludge, etc. It not only reduces environment pollution, but also makes rational use of resources. The organic fertilizer production line includes several steps as follows:
1. Use the crushing machine to crush the material into small pieces .
2. Use the mixing machine to mix the material together on average .
3. Disc granulator or the drum granulator can make the material into granules .
4. Irregular granules will be screened through the screening machine.
5. Rotary dryer and cooling machine will dry the and cool the granules. And then to be packaged in bags.
Advantages of the Organic Fertilizer Production Line
1.Choosing animal waste and municipal waste as raw materials is friendly to environment, which greatly reduces pollution.
2.The production is in low investment and high profit. It is beneficial to promote innocent treatment of waste, utilize resources rationally.
3.The whole production process is in easy operation, high-efficient production and stable performance. It is helpful to realize industrialization, marketization, and large-scale production.
4.With advanced technology, the quality of organic fertilizer is improved, promoting commodification
If you want to know our products, you can always call my company's sales hotline +86-371-86555722or click the button below to check the price online ↓