How to quickly solve jam problem in jaw crusher?
Jaw crusher is the first stage crushing machine in the crushing process, then broken material goes to impact crusher or cone crusher for secondary crushing work. Because the jaw crusher in the first crushing, the material is relatively large, irregular shape, it is easy to block. When dealing with the blocking problem, most will choose to turn off the power supply of the jaw crusher, check the reason, then solve it. But this will waste sereval hours to finish,what's more the service life of equipment will be reduced due to frequent shutdown and startup. So what are the methods to deal with the jaw crusher plugging problem?
First of all, let's analyze the reason of plugging problem.
1. In order to achieve a higher output, the user increases feeding capacity, which results in jaw crusher blockage.
2. Too much material in the lower chamber of the jaw crusher can't be discharged, so it resisters the moving plate and causes the motor to overload and stop.
3. The downstream equipment stops and the jaw crusher continues to break.
4. The irregular stone is too large to enter the cavity of jaw crusher.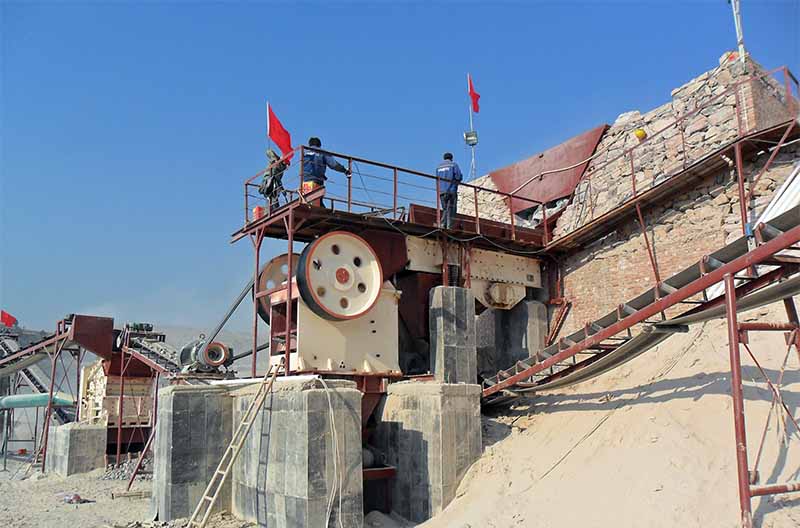 In case of blockage, it needs to analyze plugging reasons, then solve it according to the following methods
1. If there's plugging problemIn the process of using jaw crusher, workers could knock it around for a few times and make some small vibration to see if the material can be down. At the same time it should stop feeding and wait until the equipment eliminates blocking.
2. It is a better way to use the sound and light indicator to indicate the feeding directly. Install an electric alarm at the feeding mouth of the jaw crusher. When the feeder reaches a set current value, the alarm will start to remind. If the downstream equipment mediation, feeder conveying current is zero, alarm will be prompted.The mine car driver receives the alarm prompt to be able to stop to pour the material, thus prevents blocking the material.
3. If there is too large stone material that cannot enter the cavity and, result in obstruction during crushing working, the worker can use a iron bar, probing into the gap of the stone, using the machine movement force to change the stone position, after adjusting the position for many times, the blocking problem can be sovled quickly.
Baichy Machinery is a mining machinery manufacturer since 2003. We are mainly engaged in manufacturing stone crushing machines, grinding equipment, mobile crushing plant and mineral processing machines, integrates research and development,design, manufacturing, sales and after-sales service. Welcome to visit our factory.
If you want to know our products, you can always call my company's sales hotline +86-371-86555722or click the button below to check the price online ↓