Triple pass rotary dryer delivery in complete sand drying plant
Based on single pass drum dryer, Baichy Machinery develop triple pass drum dryer to take drum drying technology a step further. Triple pass rotary dryer improves the performance in operation cost, service life, energy efficiency, product consistency. The triple pass rotary drum dryer is used to dry river sand, artificial sand, silica sand, yellow sand, mineral sand, mineral powder, slag, coal ash, coal slag, etc.
Our client has a requirement to dry silica sand with unsure capacity. After more discussion, we suggest to use triple pass rotary dryer as a first stage investment. In the condition of same capacity, triple pass rotary dryer has advantages of smaller footprint and cheaper price. We provide professional technical support and a detailed equipment list for the complete sand drying system. Finally client chose Baichy Machinery as his supplier. The triple pass rotary dryer is loaded into container to Client site on time.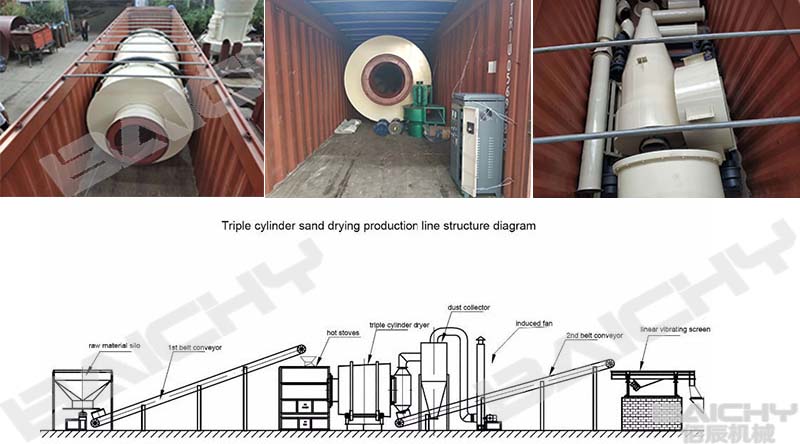 As three passes are concentric and interlocked, full-length drums maximize the effective length and residence time in a much smaller floor area compared with single pass dryer. Instead of gear driving or chain driving, triple pass drum dryer is driven by the rollers. Smooth transmission reduces abrasion and extends service life. As a result, the three drum drying machine is an alternative to traditional drying equipment. Welcome to enquiry us for more details.
If you want to know our products, you can always call my company's sales hotline +86-371-86555722or click the button below to check the price online ↓