China Baichy Machinery will appear in 2017 Concrete Show South East Asia Indonesia
Henan Baichy Machinery has been enthusiasatic and doing great efforts in past years. We have made great progress in market expending, product promotion, collaborators communication and image building. In this September, we will appear in Concrete Show South East Asia Indonesia 2017.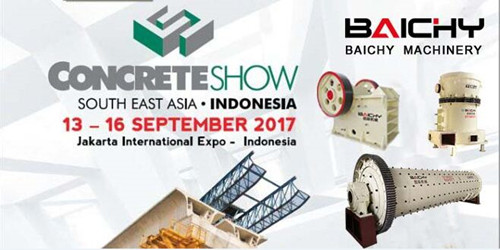 Concrete Show South East Asia, which has been held successfully for four years in Jakarta, is recognized as the leading event in the South East Asia region focused on the production, use and maintenance of concrete and concrete products.
As one of the fastest growing market in the world, Indonesia has southeast Asia's largest construction, engineering, mining, industrial equipment market. With the current political stability, open policy and strong market demand, a population of 240 million and a huge consumer base, Indonesia is becoming the largest market in southeast Asia and one of the fastest-growing economies after China and India.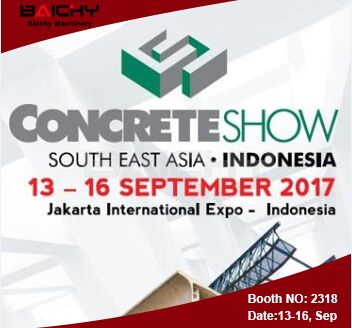 We have made much preparation for this exhibiton. From 9/13-9/16, in booth 2318, we will show our main equipment, including jaw crusher, impact crusher, cone crusher , VSI sand making machine, rotary dryer, ball mill, raymond mill etc. International sales together with professional engineers will give detailed introduce and best solution on the spot. We also prapare thoughtful gifts for every visitor.
  Come on! Henan Baichy Machinery are waiting for you at the booth 2318.
If you want to know our products, you can always call my company's sales hotline +86-371-86555722or click the button below to check the price online ↓