Typical iron ore crushing plant for sale
Among many mining equipment manufacturers, Baichy is a professional and leading iron ore crushing machine supplier. Baichy not only can provide iron ore crusher such as jaw crusher, cone crusher, impact crusher, but can supply mobile iron ore crusher such as portable jaw crusher, portable impact crusher, and portable cone crusher.
Iron ores are rocks and minerals from which metallic iron can be economically extracted. Primary crushing machine jaw stone crusher plays an important role in the iron ore crushing plant. Iron ore is a kind of hard ore and the size is large. Jaw stone crusher is the suitable iron ore crusher and can break the iron ore for primary crushing in the iron ore crushing plant.
Most iron ore crushing plant adopts two stage crushing process for the high efficiency and large production. Designed by crushing large iron ore, jaw stone crusher can easily break the large iron ore into smaller particles. Jaw stone crusher can crush the raw material with large crushing ration and high efficiency. Then cone crusher can finely crush the material and produce required final product size. In the iron ore crushing plant process, iron ore experience two stage crushing and can be fully crushed by iron ore crusher. Iron ore crushing plant plays a significant role in crushing the iron ore.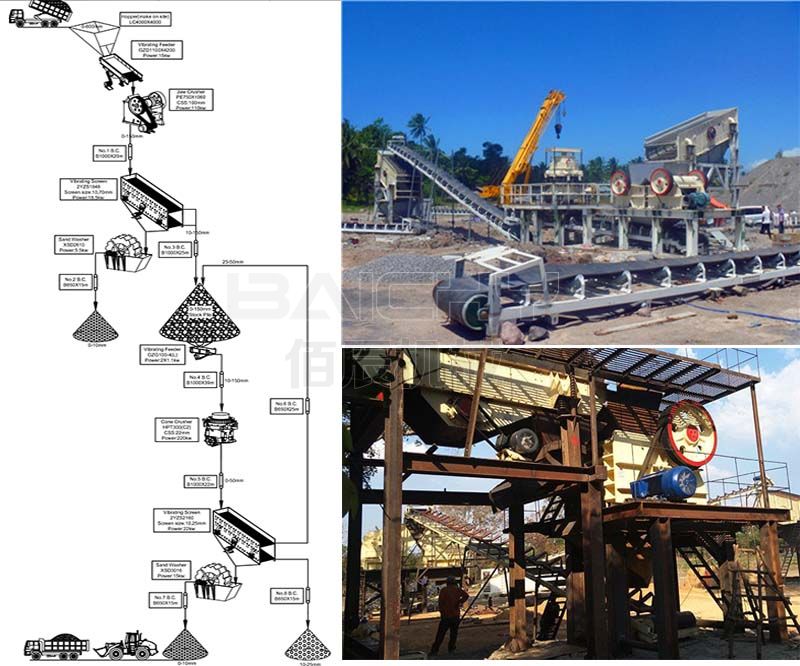 General speaking, the soltuion for Complete iron ore crushing plant is as below:
1. Technological Process: Iron ore----- transported by the dump truck ----- Vibrating feeder ----- Jaw crusher(Primary crusher) ----- Spring cone crusher (Secondary crusher) ----- Circular vibrating screen ----- finished product as the customer required
2. Max feeding size: 420mm, 500mm, 600mm
3. Output size: As the clients required (1- 31.5mm)
4. Application: Mining, metallurgy, and chemical industry.
Remarks: If the feeding size is smaller than 115mm, 150mm, 200mm, it can be crushed by the spring cone crusher directly, and avoid the primary stage crushing.
If you want to know more details about machine list, price, drawing etc, please knock me any time.

If you want to know our products, you can always call my company's sales hotline +86-371-86555722or click the button below to check the price online ↓