Aggregates production line process introduction:
Aggregate is a common material for building material for construction, railway, road, and industrial projects. The proper stone crusher could produce high quality aggregates. Generally aggregates crushing plant uses jaw crusher as the primary crusher, cone crusher or impact crusher as the second crusher, and VSI series of vertical impact crusher for crushing and shaping. Vibrating screen is to get final product in different size. Stone production line has a high degree of automation. The entire production line requires little manual operation except for the machine's power-on shutdown and daily maintenance.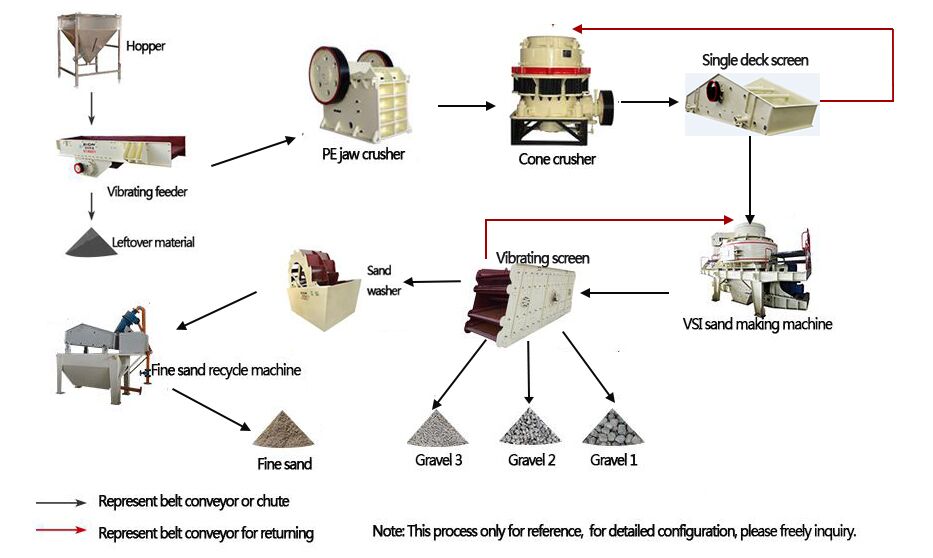 Raw stone is fed into coarse jaw crusher for primary crushing by the vibrating feeder , then crushed by impact crusher or cone crusher for secondary crushing, then the broken material goes onto vibrating screen for primary sieving. Material larger than 40mm returns to cone crusher and less than 40mm go to vertical impact crusher for crushing and shaping, then crushed material go to another vibrating screen, larger than 20mm go back to VSI and less than 20mm particles graded into different sizes according to requirements, finally transported by belt conveyor to storage pile. Sand washer and fine sand recycling machine is optional for higher standard on fine sand .
specification:
Maybe you are interested in