Stone crushing plant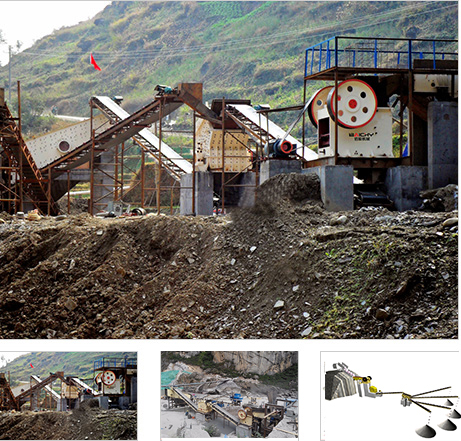 Production Capacity: 30-550T/H
Application:
It is widely used for crushing kinds of metallurgy or non-metallurgy stone. It could produce highway surface paving material, hydro power aggregates, widely applied for hydro power, construction, highway, railway, airport runway, civil engineering projects, etc.
Application material:
Granite

The limestone

The pebbles

Basalt
Online consulting
Get quotes
Stone crushing plant process introduction:
Stone crushing plant is mainly composed with vibrating feeder, jaw crusher, impact crusher, vibrating screen, belt conveyor and electrical controlling system. Capacity can be 30-1000t/h. For different requirements on finished products sizes also can equip with cone crusher, VSI sand maker and dust remove system.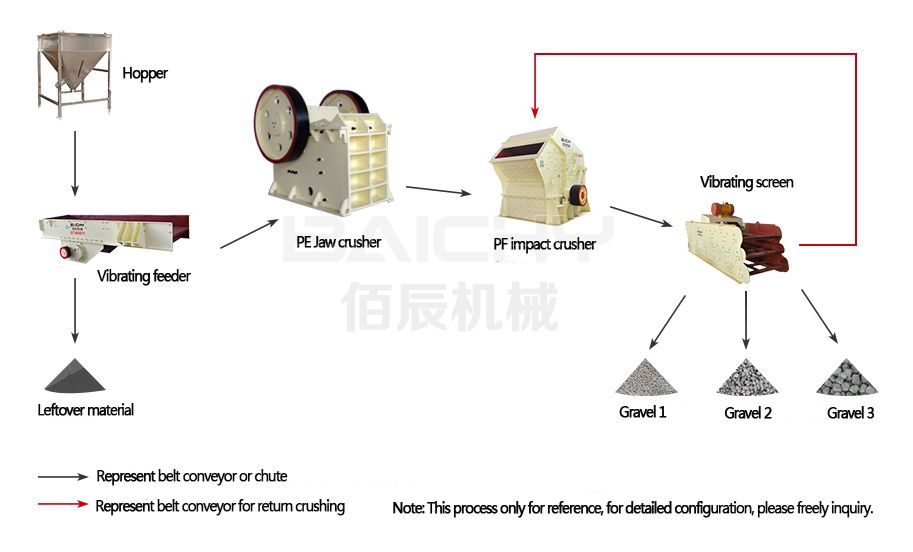 Raw materials are evenly and continuously conveyed into jaw stone crushing equipment for primary crushing. The crushed stone materials are conveyed to impact crusher (or cone crusher) by belt conveyor for secondary crushing before they are sent to vibrating screen to be separated. After separating, qualified materials will be taken away as final products, while unqualified materials will be carried back to the impact crusher (or cone crusher) to re-crush.
Equipment Configuration

Capacity

Model

Product

<50tph
50-80tph
80-120tph
150-220tph
180-250tph
250-450tph
Vibrating feeder
ZSW850*3000
ZSW850*3000
ZSW960*3800
ZSW1100*4200
ZSW1100*4200
ZSW1300*4900
Jaw crusher
PE400*600
PE500*750
PE600*900
PE750*1060
PE900*1060
PE900*1200
Impact crusher
PF1007/1010
PF1010
PF1214/PF1315
PF1320/PF1214*2
PF1415/PF1315*2
PF1320*2
Or Cone crusher
PYB900
CS75
PYB1200
CS160
PYB1750
CS160*2
Vibrating screen
3YK1548
3YK1860
3YK2160
3YK2460
3YK2460
3YK2460*2
If you have some questions about our products, please feel free to fill out the form below, and we will contact you within 24 hours. Or directly Send us email to: hnbc@baichy.com